Trim-Tex Pro Series Hopper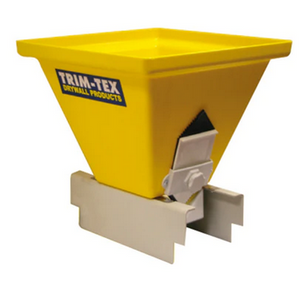 For Fast Edge®, Mud Set Beads and more, you can't find a better companion tool for a quick and painless installation than the Pro Series 4-in-1 Hopper. Includes inserts to fit a variety of profiles. Simply fill the hopper with joint compound, slide the bead through and apply it directly to the drywall — that's all there is to it!
Pro Series Hopper. Stand sold separately.
Hopper saves compound and reduces mess.
Can be used for vinyl and paper/metal bullnose, regular and splayed versions of each type of corner.
Made of rugged polypropylene that resists dents.
Features
Quick corner installation
Easy to use
Save time & mud
This is for the **Hopper ONLY** the stand is sold separately