DeWalt Gooseneck Taper Filling Attachment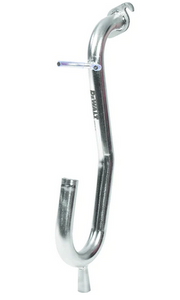 A gooseneck is a curved tube that attaches to a joint compound pump for filling automatic tapers. The DEWALT gooseneck is manufactured from premium-grade stainless steel for durability.  The automatic taper bracket on the gooseneck features vinyl sleeves to hold the taper in place securely during filling while also protecting the taper's finish. There is also an integrated foot at the bottom of the gooseneck for stability.
PLEASE NOTE: The DEWALT gooseneck is not compatible with standard pumps from other manufacturers, as it has been specifically designed to fit DEWALT compound pumps, which are longer and offer higher joint compound capacity.