Can-Am Standard Tool Kit with Tool Bag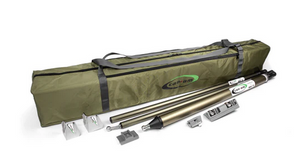 Start and finish easy with this unique drywall tool kit!

This kit has everything a drywall finisher needs to get started with flats, ceiling joints, inside and outside corners. The carry bag has soft sides and a hard bottom that makes carrying a drywall finishing tools a breeze and only takes up as much space as it needs. This drywall tool kit is long enough to accommodate even our longest applicator tube at 60", all of our handle sizes, and still has plenty of extra room so you can expand your set. The bag is completely washable, just hose it down while cleaning your other tools, and let it air dry.
Includes
Standard Tool Kit includes 1 of each of the following tools:
A300 - 42" Applicator Tube
B100 - 2.5" Standard Flusher
B200 - 3.0" Standard Flusher
E100 - Inside Corner Applicator
G200 - Flat Applicator
J200-VI - 4 Wheel Inside Corner Roller
D100-VI - 4' Finisher Handle
D200-VI - 4' Roller Handle
P600 - Soft Side Tool Bag