Can-Am NyCor Painter & Contractor's Drywall Corner Kit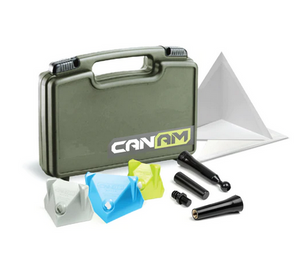 Delivered in a durable case, the NyCor Kit is designed for professional painters and general contractors.  NyCor Finishers emulate CanAm's world-renowned corner finishing experience, including the following innovations:
Eliminate Sanding

with

Precision Feathering Tabs

– Reproduces CanAm's iconic trade secret for a best-in-class, dependable finish.

Wave Spring Technology

– Patented design ensures just the right amount of stiffness across the entire finisher to create a uniform finish even if your corner is not quite 90°!

Nylon 6

– Selected after rigorous testing for smooth gliding and the familiar springiness of CanAm flushers.

Springless Socket

– Hear the famous CanAm *click* as the flusher is secured onto the handle, allowing you to finish from any angle.
The NyCor FAST Adapter introduces a revolutionary quick-change system, reducing the need for multiple poles and increases your efficiency and profitability.  Use a painter's pole (not included) to quickly change between the following tools:
Inside Corner Roller

Outside Corner Roller

2.5″ Finisher

3″ Finisher

Sander

Paint Roller
After many years in the drywall business, the 3WAY corner has been perfected by its founders. With this innovative design anyone can put in a 3WAY and finish like a pro!  The 3WAY features:  
Adjustable

90° corner angle (for framing that is just not quite right!) 

Reinforced backing

to cover gaps and drywall board defects 

Beveled edges

to blend into tapes and drywall 

Perforated edges

to ensure bonding to drywall with mud to avoid those pesky call backs for touch ups!
3WAY Drywall Corner Finishing is more durable than paper tapes, no corner cracks, fast, easy, and perfect corners!
Included

The Painter and Contractor's Kit includes 1 of each of the following tools:
C9100 - 2.5" NyCor

 

Hi-Vis Green Corner Finisher
C9200 - 3.0" NyCor 

 

Concrete Gray 

Corner Finisher

C9400 - 3.5" NyCor Electric Blue 

Corner Finisher

D9100 - NyCor Handle - 6" Finisher

D9200 - NyCor Handle - 4.5" Roller
H9200 - NyCor FAST Adapter - Painter's Pole
H9300 - NyCor Paint Roller Adapter
P800 -  Finishier Carrier Case - Green
BONUS ITEMS INCLUDED