Can-Am GoldCor Compact Tool Kit with Bonus Items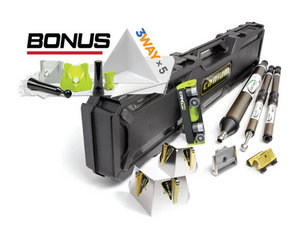 Can-Am GoldCor Compact Tool Kit with Bonus Items!
Compact and lightweight, this kit is a cost-effective alternative to the Professional Tool Kit to achieve an efficient and exceptional finish in most standard applications.  If you don't need outside corner tools, and don't need the extra length, this kit is just for you!
Reaching up to 4', the extendable handles and 32" Compound Tube work great for most standard height ceilings.  It is great for general contractors or anyone doing smaller jobs.
It has the added benefit of working quite a bit better in tighter spaces, such as closets, where longer tools don't fit.
CanAm has been proudly crafting tools in Canada since 1973 and we haven't stopped innovating since.  The newest innovations in this kit include:
Easy Fill Compound Tube

(32")

- wide opening nozzle allows for high flow rate in and out, easing the strain on your shoulder
2-Way GoldCor Applicator

- move back and forth with one fluid motion, laying down a tight ribbon of mud with our Patent Pending Coilspring Retainers
Ultralight Roller

- 32% lighter than our Heavy Duty Roller, and now featuring Removable End Caps, you can count on crisp, sharp angles, every time

Roller Glide Finishers

(3" & 3.5") - patented design makes finishing effortless, eliminating "chatter" and gliding over wet tape on the flats.

Easy Clean Extendable Handles

(2'6" - 4') - unmatched

in the industry, the removable bushing allows you to disassemble, clean, and service your twist-lock handle
PLUS, this kit also includes the time-tested Flat Applicator AND innovative bonus items such as:
Box Filler Adapter - fill flat boxes without a pump!

NyCor Finishers (2.5" & 3") - for your toughest jobs

NyCor Handles (4.5" Roller & 6" Finisher) - for hard-to-reach spots

3WAY 5 Pack - a product we're proud to endorse: consistent, quality 3-ways made easy
Lastly, the tools come securely loaded in our GoldCor Traveler Tool Case, featuring a lightweight polymer shell and all-purpose foam padding.


Included

The Compact Tool Kit, includes 1 of each of the following tools:
A200 - 32" Applicator Tube (New Style)
B200-RR - 3.0" Roller Glide Corner Finisher
B400-RR - 3.5" Roller Glide Corner Finisher
D800-V1 - 2'6″ – 4′ Extendable Corner Finisher Handle (New Style)
D900-V1 - 2'6″ – 4′ Extendable Corner Roller Handle (New Style)
E1200 - Inside GoldCor Corner Applicator - Dual Purpose
G200 - Flat Applicator
J400-V1 - Ultralight Inside Corner Roller
P1500 - GoldCor Traveler Tool Case - Black
BONUS ITEMS INCLUDED
C9100 - 2.5" NyCor

 

Hi-Vis Green Corner Finisher
C9200 - 3" NyCor Concrete Gray Corner Finisher
D9100 - NyCor 6" Finisher Handle for Fast Adapter
D9200 - NyCor 

4.5" Roller Handle

H700 - Box Filler Adapter
(5) 3Way Inside Corners
15 Items Included